Images in Medicine: The Tales of William, Willem, and Waller, and the Birth of the Electrocardiogram
Marcellus Francis L. Ramirez
Dec 2022 DOI 10.35460/2546-1621.2022-sp17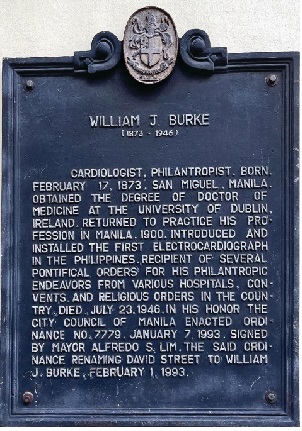 In 1927, the Department of Medicine of the University of Santo Tomas Faculty of Medicine and Surgery was first formally organized by Dr. William J. Burke, who served as the head of the department until 1939 when he was succeeded by Dr Gervasio de Ocampo. Dr. Burke was a cardiologist and a philanthropist born in San Miguel, Manila, who finished his medical studies in Dublin, Ireland, and returned to practice medicine in Manila in 1900. While he was known to have received pontifical orders for his benevolent contributions from several institutions, little is written about his major contribution to the field of medicine and cardiology in particular.
It was Dr. William Burke who introduced and installed the first electrocardiograph in the Philippines. A commemorative plate built in his honor through an ordinance by the Manila City Council and signed by then Mayor Alfredo Lim on January 7, 1993, celebrates this milestone. This ornamental plate stands up to this present day in the Burke Building along Escolta Road in Binondo (Figure 1), which incidentally, is also documented as the first building in the Philippines to have an elevator [1,2].
Figure 1. The commemorative plaque in Burke Building in Escolta St., celebrating the milestones of Dr William J. Burke, the founding chairman of the Department of Medicine. (photo taken by the author)
His exploits as a cardiologist is further preserved and celebrated in an iconic picture with him holding an electrocardiographic tracing, and discussing its interpretation with a fellow physician, a classic black and white photograph with the caption "Dr. William Burke – A Portrait of a Physician" (Figure 2). This nostalgic picture wonderfully depicts the pedagogical relationship of the mentor and the student and stands as a symbolic representation of the clinician as a teacher.